Brian And Mika Kleinschmidt Win 'rock The Block' With Help From A Motorized Pergola
'100 Day Dream Home' stars Brian and Mika Kleinschmidt won season 2 of HGTV's 'Rock the Block' thanks in part to a motorized pergola from StruXure and Somfy.
What if you gathered some of the best interior design stars on HGTV and made them compete to see if they could turn identical model homes into the best-selling house on the block? That's the premise behind HGTV's design reality competition 'Rock the Block.' Stars from across the HGTV universe paired up to see who could add the most property value to their home on a block in Georgia.
From the beginning, '100 Day Dream Home' stars and married couple Brian and Mika Kleinschmidt were facing some stiff competition. The other three homes were being renovated and designed by Nate Berkus and Jeremiah Brent ('Nate and Jeremiah: Save My House'), David Bromstad ('My Lottery Dream Home') and Tiffany Brooks ('$50K Three Ways'), and Alison Victoria ('Windy City Rehab') and Mike Holmes ('Holmes + Holmes'). With that much talent in the game, winning was certainly no guarantee.
Brian and Mika focused their efforts on creating a home that was both fun and functional, adding a huge hidden pantry, an upstairs laundry room, and even a bowling alley in the basement. Their focus on functionality and timeless design touches made the home work for families of all sizes.
But it was the outdoor space where they really brought the wow factor. The addition of a voice-controllable motorized pergola created a memorable outdoor space that could be used rain on shine. With just the press of a button on a handheld remote or using voice control, future homeowners will be able to open the pergola louvers to let in gorgeous sunshine or close the louvers to have it made in the shade.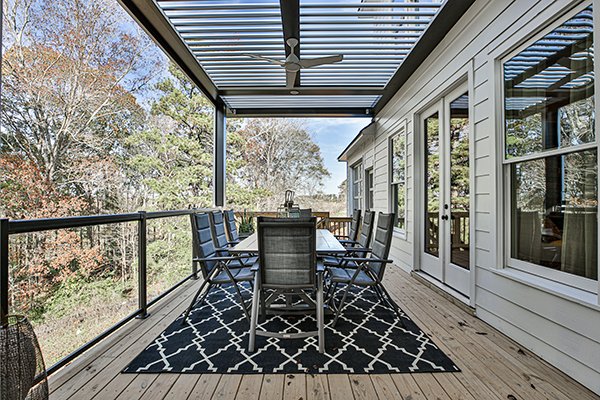 The pergola by StruXure Outdoor and powered by Somfy truly transformed the modest backyard into a party space where families and friends can gather, rain or shine. In fact, during judging on the outdoor space, Brian and Mika closed the pergola with a simple voice command when it started to drizzle to protect guest judges Mike Pyle and Carmine Sabatella ('Inside Out') from the elements.
"I don't think compromising on the exterior is an option," Mika said in the episode.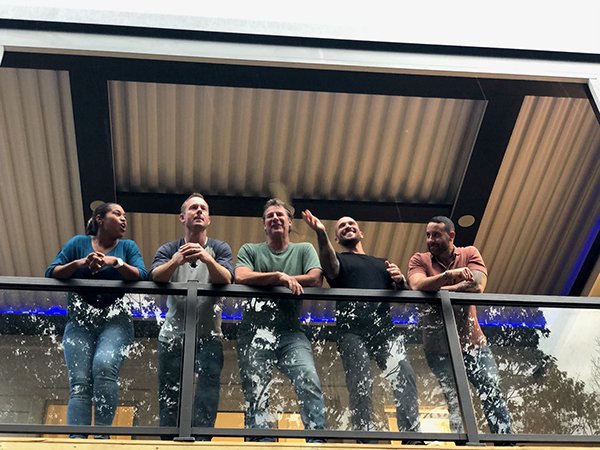 Even though Brian and Mika lost the outdoor challenge, the judges doing the final walkthrough of their space saw the benefits of the work they put in, particularly on the outdoor space.
"These things are amazing," guest judge Ken Corsini of 'Flip or Flop: Atlanta' said about Brian and Mika's motorized pergola in the episode. "This is covered space. This is going to give you a bump on an appraisal."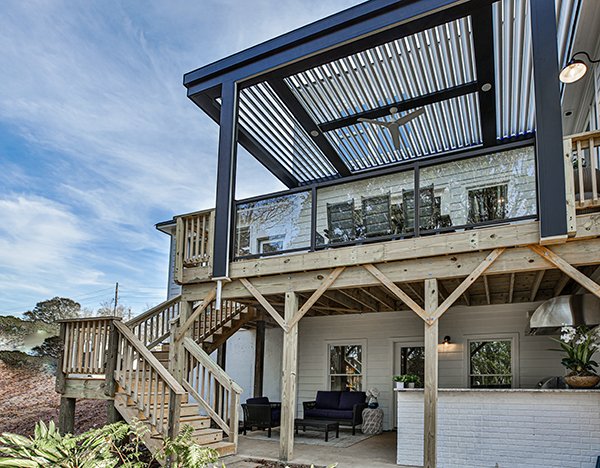 Despite never winning an individual room challenge, Brian and Mika added so much value to their home that it was impossible for them to lose. From a garage workout room to a basement bowling alley and a voice-controlled motorized pergola, Brian and Mika really went out on a limb to make their home unique and functional for the modern family. The judges saw the value in all their hard work and their home came in at the highest appraisal, meaning they added the most value to their home and won 'Rock the Block' season two.
Expanding the outdoor living space made a huge difference and helped Brian and Mika nab the title of 'Rock the Block' winners. Motorized pergolas allow homeowners to create truly stunning outdoor living spaces where family and friends can gather and be comfortable. These pergolas can be adjusted with voice control, a handheld remote, or even with app control so you're always in command of your pergola. You can open the louvers to let in sunshine and enjoy a nice day or close them when the sun's rays become too strong or when it rains.
A motorized pergola allows you to take control of your outdoor space, no matter what Mother Nature has in store. It's a great way to increase and improve outdoor living spaces so they're gorgeous, functional, and comfortable.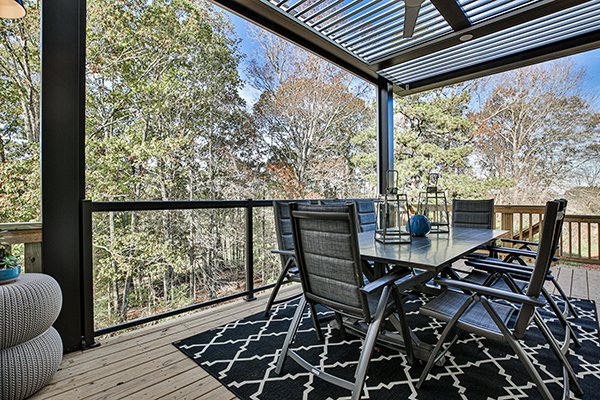 "This is a game-changer right here," Mika said on 'Rock the Block' about the motorized pergola they installed.
We're excited for Brian and Mika's 'Rock the Block' win and for the family who will get to enjoy their outdoor space under a motorized pergola.